Waah..Best betul kalau impian ku menjadi realiti. Tak mustahil. Target biar tinggi. Sesuai dengan kepercayaan diri yang kita boleh. Boleh jadi 'siapa' pada masa depan.
MBA
Kebanyakan orang yang dah bekerja akan target nak buat MBA. Nak sambung ke top universiti perlu paling kurang 3 tahun pengalaman kerja. Mengapa perlu Top Universiti? Di sini Saidah hurai serba ringkas bagaimana nak sambung ke USA dan di mana yang best nak sambung.hehe. p/s: Business School memang mahal dari school yang lain.
School yang terbaik untuk MBA adalah yang ada the Association of MBAs (AMBA). AMBA accredit over 150 UK and global MBA programmes and set high standards related to student mix (ie a good balance of UK, European and International students) good staff student ratios, high entry requirements (students need to have a good first degree but significant experience too), flexibility and access to top academic staff. Other global Business School accreditation bodies are AACSB (based in the USA) and EQUIS (based in Europe).
Fees for many MBAs are expensive (£18,000 plus is common for AMBA accredited Schools) and you tend to get what you pay for in terms of career progression and salary, student support, knowledge and networks. Contoh, MBA di Edinburgh Business School adalah £21,000 untuk setahun.
A MBA is far more than just an expensive MSc/MA but is designed to allow existing managers, civil servants, engineers, scientists and education professionals put their experience back into a management theory and context. This means that fellow students can share their experiences while getting to grips with the latest management theory with highly regarded academic staff. MBA courses also involve at least one major project with a real 'client' (25,000 words is common), company visits, exchange programmes and other real life simulations. Most AMBA accredited and respected programmes have an entry requirement of 3–5 years management related experience prior to enrolment.
Many UK Business Schools have dedicated MBA suites with base rooms, seminar rooms, cafés and breakout areas – to encourage a collegiate atmosphere. Specific MBA facilities and careers advice may also be important to prospective students.
MBAs are often available (including AMBA accredited ones) as distance learning, part-time as well as traditional full-time 12-month programmes, or as double qualifications allowing students to spend time in more than one place.
In short, prospective MBA students should do their research on course content, flexibility, accreditation and quality control, academic expertise and career support, fees and scholarships (some UK MBAs offer fee discounts for their own graduates or for UK students to help ensure the right global student mix), facilities, career progression and facilities.
Pilih Universiti yang bagus
Phil Dunne, dari satu syarikat yang dirahsiakan berkata, ciri-ciri yang dilihat untuk lepasan MBA dari sesebuah universiti adalah:
1) "Business schools yang menyediakan an efficient source of pre-screened and easy-to-access talent; 2) The subjects - analytical techniques and business focus - equip recruits with relevant, broad-based problem-solving skills; 3) The case-based, team-oriented learning format is a good simulation for working practices encountered in a consulting environment."
Sumber: Martindale, N. (Nov, 2012), The Telegraph UK
Memang betul. Realiti pelajar MBA akan diberi tugasan dalan bentuk "consultancy project"- "real case study with selected big companies". Yang tu daripada yang Saidah lihat dan sembang dengan Project Manager Edinburgh Business School, Douglas. Kebanyakan analisis dari segi pasaran menyatakan MBA "graduates" gaji lebih tinggi sebanyak 50% daripada gaji mereka yang sebelumnya. Best2. Nanti InsyaAllah Saidah nak ajak husband buat MBA ke Harvard..Sape ntah.hehe. GMAT memang susah nak score. Takpe, I bagi semangat.hihi..
Kena score GMAT
Apa itu GMAT? Lihat pautan yang Saidah tulis di sini
http://ursaillaes.blogspot.co.uk/2013/05/apa-itu-toefl-ielts-sat-gre-gmat.html
USA
ada banyak universiti yang best dalam Business School. Bagi Saidah, kalau kita berjaya dalam kerjaya, jom kita memantapkan lagi dengan pemikiran akademik. Nanti boleh sumbangkan ilmu kepada masyarakat. Teringat ada lesson yang Saidah belajar dalam salah satu kuliah, iaitu kebanyakan syarikat akan lebih berjaya jika innovative dan tahu memanfaatkan peluang selari dengan trend global. Universiti yang top banyak menawarkan peluang seperti "entrepreneurs circle" yang melibatkan individu yang tepat dan mempunyai semangat dan sikap yang sama. Kejayaan kita adalah ditentukan dengan siapa orang di sekeliling kita. Orang yang tepat.
Contoh GMAT yang kena score di USA
| | | | |
| --- | --- | --- | --- |
| MBA Program | | | Average GMAT |
| | | | |
| | | | |
| | | | |
| | | | |
| | | | |
| | | | |
| | | | |
| | | | |
| | | | |
| | | | |
| | | | |
| | | | |
1) Harvard University
Pembelajaran Saidah banyak berdasarkan "case study" dari Harvard Business School (HBS). Untuk tujuan individu, "case study" dari HBS mahal. Jadi banyak "advantage" belajar di Top Universiti adalah akses kepada kepakaran terus kepada industri melalui "case study". Memang best baca. I got inspired everytime I read it. Ambitiouss jadinya nak jadi a successful entrepreneur/ corporate figure one day.
1. Harvard Business School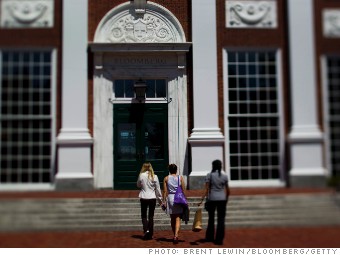 Index: 100.0
2011 rank: 1
Median GMAT: 730
Acceptance rate: 13%
Median starting salary: $120,000
Recommended two-year budget: $164,000
Harvard Business School is synonymous with the MBA degree. It's hard to beat the cache of the HBS degree which is one reason the school receives more applications to its MBA program than any other in the U.S.
More chief executives and presidents have had their MBAs issued by Harvard than any other school. And Harvard has become a hotbed of entrepreneurial activity as well.
Saidah bagitahu pasal Harvard je. Universiti lain mungkin sama aje kot. hihi..Cheers!
p/s : nak tengok tak gambar-gambar universiti terindah di UK?=))